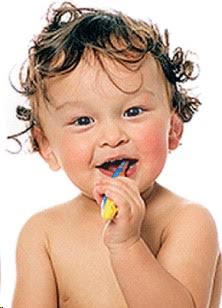 Seven Mistakes Parents Make with their Kids' Teeth
You know regular brushing, a healthy diet and dental visits are some of the best ways to prevent cavities, yet experts say many parents are falling short when it comes to oral hygiene.
In fact, 42 percent of children ages 2 to 11 have had cavities in their baby teeth. And 21 percent of children ages 6 to 11 have had them in their permanent teeth, according to the Centers for Disease Control and Prevention (CDC).
Here, find out the biggest mistakes dentists say parents are making and learn what you can do to keep your children's teeth healthy throughout their lifetime.
Letting kids brush alone
Since most children don't have the motor skills to brush effectively until they're 8 years old, parents need to supervise brushing and check to make sure every surface of each tooth is clean.
"It's not that they don't want to do a good job, they're just not physically capable yet," said Dr. Edward H. Moody, Jr., president of the American Academy of Pediatric Dentistry.
Putting baby to bed with a bottle
It's the easiest way to cause tooth decay, yet parents are still doing it, experts say. In fact, according to a survey by the American Academy of Pediatric Dentistry, 85 percent of parents said it wasn't a good idea to put their babies to bed with a bottle of milk or juice, yet 20 percent did it anyway.
Whether it's a bottle at bedtime or a sippy cup all day long, the habit keeps the sugar and bacteria levels in the mouth elevated all the time, Moody said. If your baby wakes up at night for a bottle or to nurse, wipe out her mouth with gauze or a soft cloth or brush if she has teeth.
"If you start early on it becomes part of the normal routine," he said.
Making the first dentist appointment too late
Expert say it's common to see children 2 or 3 years-old who need to go under general anesthesia to treat cavities and infections. One of the explanations for this is that parents aren't bringing their babies to the dentist early enough.
The first trip should either be when the first tooth erupts or by your baby's first birthday. Dental visits every six months from the get-go will also help your child feel comfortable—and even excited—to go every time.
Offering "healthy" foods

Bananas, raisins, and whole-grain crackers seem like healthy fare but foods that are sticky and have concentrated sugars like these will sit in the grooves of the teeth and create cavities. Instead of nixing them entirely, eat them with meals— when there's more saliva— and always brush afterwards, said Dr. Joseph Banker, founder of Creative Dental Care in Westfield, N.J. 
Thinking cavities are no big deal
You might think treating a cavity is an easy fix, but cavities can affect your child throughout his lifetime.  For starters, healthy baby teeth are necessary to maintain space for adult teeth. They help guide the jaw so it can grow.
Plus, if a cavity becomes infected, it can affect the development of the adult teeth and if there's an abscess, the child will likely need sedation to treat it, Banker said. Cavities at an early age, especially if they're not treated, can also lead to problems with speech articulation, poor sleep, and even low self-esteem and school performance.
Not using fluoride
Last year, the American Dental Association revised its recommendations and now suggests children age 2 and under use fluoride toothpaste, too. Although fluoride is controversial, experts agree that the research is clear: it's one of the best ways to prevent cavities.
The appropriate dose, however, is key. For children 3 years old and younger, use the equivalent of a grain of rice, and for children 3 to 6 years old, a pea-sized amount is enough. Nevertheless, if you're concerned about your child's exposure to fluoride in the water and toothpaste, talk to your dentist.
Loading up on sports drinks
A common cause of tooth decay in older kids is sipping on sports drinks and soda at lunch, at games and at home. By bathing their teeth in acid all day, there's no opportunity for the PH to re-balance, Banker said. If you can't persuade your child to completely nix it from his diet, encourage him to limit the amount, then drink it and be done with it. 
Julie Revelant is a freelance writer and copywriter specializing in parenting, health, healthcare, nutrition, food and women's issues. She's also a mom of two. Learn more about Julie at revelantwriting.com.